Master Saying 'No' Confidently
Build Credibility and Resilience Without Creating Conflict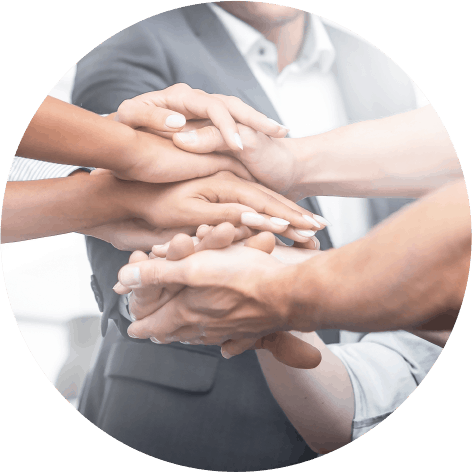 YES! I want my team and me to be more ENERGIZED, FOCUSED, and CREDIBLE!
As a leader, you're passionate about getting the right things done and supporting your people's team's energy, resilience, and ultimately success.
And you need some support to:
Get past the overwhelm of never ending requests of you and your team.
Say 'No' when you and your team can't meet expectations or when your boundaries are challenged.
Energize yourself and your team, and build your credibility.
You and your team are feeling frustrated.

You feel exhausted and overwhelmed.
You fear you and your team could lose credibility by not delivering on your commitments.
You know the right answer is 'No' but you keep saying 'Yes' because you are too tired or too busy to discern the risks associated with saying 'Yes' or 'No'.
You are not alone and in fact a recent survey of our clients, indicates the majority of leaders surveyed, are feeling just like you.
The good news is other teams we have worked with have moved from chaos & overwhelm to being CALM, CONFIDENT AND COLLABORATIVE … and you can too!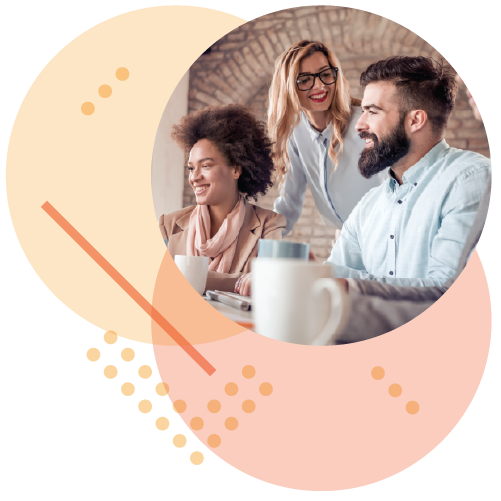 IMAGINE meeting key expectations with ease as you:
Sleep well, and feel confident your team delivers quality work on time, without working crazy hours.
Build credibility with clients and internal teams by creating focus.
Energize your team as they recognize saying 'No' collaboratively builds relationships.
Celebrate as you complete the most important deliverables and make a difference.
Enjoy your job again, knowing you're making a difference.
IMAGINE making an even bigger difference as you grow your team's confidence to get the right things done, lead with healthy, flexible boundaries and feel energized! That is what makes this program different from all the rest.
Traditional leadership development programs are selling you short. This program:
Provides you and your team with a unique, simple model that builds confidence and common language to create clarity, focus and energy.
Customizes your learning experience by engaging your team in dialogue and real-time application of their learning to resolve their real-work issues in real time.
Connects your team's learning with your organization's values and competencies so the change sticks.
Builds resilience and relationships that support credibility by achieving the right results.
Aligns the mind-heart-body to help your people discern a 'Yes' or 'No' answer in context, to be more deliberate in managing capacity.
Tracks progress and results over time, maximizing your ROI on training.
That's the power of our Master Saying 'No' Confidently: Build credibility and resilience without creating conflict with our measurable learning and change-making approach!

This program is a unique way of building confidence, credibility and resilience. It interrupts the hamster wheel effect of too much effort for too few results and the resulting overwhelm and complacency. You and your team advance with renewed energy and clarity to achieve their most important results!
What can you expect and experience in this program?
To really have a strong, successful, credible team, they need to be more discerning about asks of them AND feel confident responding in a collaborative manner that may mean saying 'No'.
We've all had experience working with someone who always says 'Yes'; who doesn't live to commitments or deadlines, and lets the entire team down as a result. We've all been part of a team that receives multiple requests and loses focus.
Our research shows this is more common today than ever before. Team members fear saying 'No' because of the risk of recourse or because they can't discern when 'No' is the appropriate answer.
This program is designed for leaders who are stressed because the list of their team's outstanding commitments is playing in their heads. They are feeling their own resilience dropping and are worried about the mental health of their team members.
One strategy that disrupts fatigue and overwhelm is to master saying 'No' confidently, without creating negative conflict and losing credibility.
This program directly addresses our human tendency to over-commit and to feel we are being kind when we say 'Yes', and the consequences to our relationship with self and with others of saying 'Yes' too often.
What are you saying 'Yes' to when you should be saying 'No'?

IMAGINE, what would be possible if you said 'No' with confidence and further built your own credibility and that of your team?
This program re-energizes you and your team as you consciously and confidently practice saying 'Yes' or 'No', and manage your own capacity and credibility.

We'll take you on a journey to:
Strategize: Get clear on the difference saying 'No' would have for the team, in individual
roles, careers and life and why this is important.
Align: Connect your learning to your team's values, goals, capacity and credibility.
Communicate: Disrupt your sense of overwhelm, when you use the model to discern your 'Yes' or 'No' answer and guide your conversation, knowing you can maintain healthy relationships with all stakeholders even when you say 'No'.
Celebrate: Practice makes perfect! Celebrate increased confidence, focus and energy! We integrate practice and implementation to ensure lasting change.
Deliverables: How the Program Works and What Your Team Will Get
Expect:
Nine hours of learning customized to your needs with:
Two sessions of three hours each, ideally spaced three or four weeks apart (your choice).
Homework and practice between sessions One and Two.
Connection to your organization's values and competencies.
An experiential, conversational approach to engage and ensure the program meets the needs of your team.
Progress measurement throughout.
Your customized Implementation Plan integrates the change to your day-to-day work so it becomes part of your operating system and culture.
A two-hour Implementation Support Session two or three months after Session Two.
Added Value:

Email and text support between Sessions One and Two.
Optional (additional investment): On-demand coaching calls of fifteen to twenty minutes between sessions to support your learning.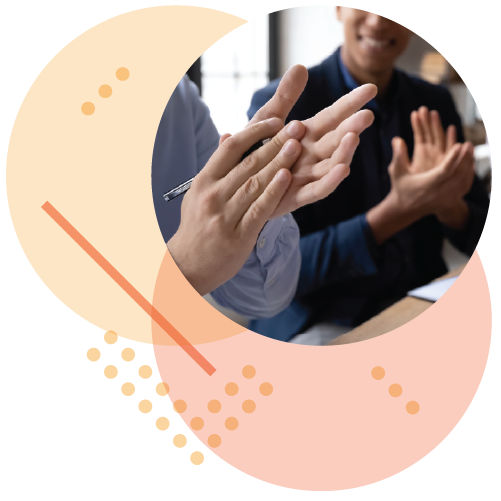 Master Saying 'No' Confidently: Build Credibility and Resilience Without Creating Conflict
In Master Saying 'No' Confidently, you and your team learn to use a simple model to discern when and how to say 'No'.
PLUS you'll learn to communicate 'No' with confidence so that your team's new healthy habit incites others to work more collaboratively with you.
Participants get clear on the difference saying 'No' makes on the confidence in their role, career and life, and on how to articulate why this is important to them.
Consider how many times we say 'Yes' when the answer should be 'No'.
Discern what, when and how that is costing you as a leader.
Examine the difference saying 'No' makes in their role, career and life, reflecting on several real-life situations.
Explore what gets in the way of being true to yourself, your capacity and your credibility.
Explore ways you can say 'No'.
Reflect on what would change if you were to say 'Yes' or 'No' with clear intention and commitment.
Consider why it is important to you to master saying 'No' with confidence.
Learn as you practice using a template to discern saying 'Yes' or 'No'. Prepare for your conversation so you confidently respond 'No', when appropriate.
Connect saying 'No' to your values, objectives, capacity, and credibility.
Consider what it would take for you to say 'No'.
Explore commitments you've made you know you won't meet.
Learn the template and practice applying it as you prepare for a real-life saying 'No' conversation of one simple request.
Disrupt your sense of overwhelm, when you use the model to discern your 'Yes' or 'No' answer. Guide your conversation, knowing you can maintain healthy relationships with all stakeholders.
Pair up with your Thinking Partner to support one another and anchor your learning.
Host the real-life conversation you prepared for, in a situation that feels low risk.
Find opportunities to continue to practice using the template between sessions.
Obtain email support of your success along this journey.
Experience increased confidence, feel less risk when saying 'No' without conflict or lost credibility, and have more energy.
Design your Implementation Plan, including progress measures, to integrate your learning to your team's day-to-day operations.
Explore what you did well, what has changed and where you want to improve in discerning and saying 'No' as a team.
Explore how discerning and saying 'No' is serving you in your role, on your team, with other stakeholders, and in the culture of your broader organization.
Explore how you might make saying 'No' with confidence a habit in your life.
Celebrate your team's progress and the difference it is making in your energy and results.
We will customize this nine hour workshop to your needs as indicated above, guaranteed to address your issues in real time. The price includes all program materials, guided team conversations on Zoom and support as you lead your team through this change. Optional on-demand coaching with professionally trained Executive Coaches is available with an additional investment.
An all inclusive price of $4,875 for the full Master Saying 'No' Confidently Program for

teams of five to fourteen delivered on Zoom.

An all inclusive price of $8,775 for the full Master Saying 'No' Confidently Program with

two facilitators, optional for teams of five to fourteen, mandatory for teams of fifteen to

twenty delivered on Zoom.

Accommodation and travel costs will be billed at an agreed upon amount for all in-person

sessions.
NOTE:
Delivery:
This program is very effective on Zoom and is in fact, our preference.
Recommendation:
We highly recommend two facilitators for teams of eight or more, in fact some of our clients have requested two facilitators for all of their team work.
The value of two facilitators:
The lead facilitator is focused on delivering content, engaging the team and moving the agenda forward while deepening the learning. The other facilitator focuses on observing the dynamics and processes of the team. The two facilitator roles and styles accelerate and deepen your team's learning and growth.
Value Add:
One-to-one coaching is available during and after the program to support integration. Ask us about our individual coaching service.