REFOCUS
Get the right things done
OVERCOME FATIGUE
Build resilience
TRANSFORM SILOS
Collaborate for Results
Building on 30+ years of experience, we can support your leadership team to integrate the clarity habit, harness the power of reflection, conversation, and collaboration and celebrate meaningful results, even through ever present change.
Resolve Issues in Real Time
You and your team will experience clarity and confidence as you continue to grow through change and generate meaningful results.
We will accelerate team growth to collaborate across hierarchy and silos, seize opportunities quickly, solve problems and innovate effectively.
As a leader, you rely on your team to get things done. AND… the game keeps changing. Achieving results can feel illusive in this new reality. 
Accountability by Design's unique conversational and experiential approach is radically different than conventional training. Our C3 System and RESULTS Model guides your team to align behaviours and actions with the larger organizational system and culture.
Our approach is simple, repeatable and predictable. 
We've worked with hundreds of corporate teams who have seen remarkable transformation happen once everyone becomes clearly aligned. You too can experience remarkable results; call us today!
"It is refreshing to watch my team step into a new leadership practice of self-reflection and intentional learning, resulting in overall improved communication and a more collaborative approach with their teams." - VP of Operations Western Canada for International Manufacturer 
You are not alone. We are all in this together.
Guiding change, fostering collaboration, and supporting accountability are the most important leadership competencies of today. Our C3 System of clarity, collaboration, and celebration strengthens these critical leadership competencies and guarantees results as you apply your learning. 
We're doing a joint presentation:
May 9 - 12, 2023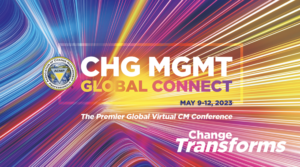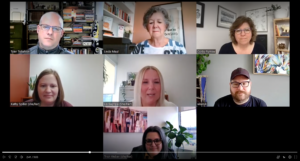 In this video, Linda chats with volunteer coaches with the United Way. https://youtu.be/uhJkNDR8_XE
Read More »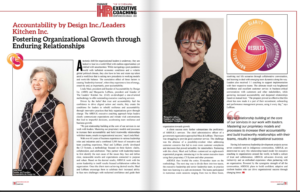 We are thrilled to announce that Accountability by Design Inc. jointly with The Leaders' Kitchen Inc., were recognized as one of the Top Ten Emerging
Read More »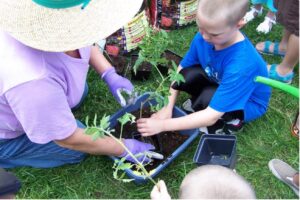 As I dug in the dirt yesterday and reflected on our work with teams over the past few years, I kept thinking about how similar
Read More »
Subscribe to our newsletter
Designing Accountability: Achieving Results
Clarity ■ Collaboration ■ Celebration
Our C3 System is proven to fast-track teams and achieve sustainable results through collaboration and accountability! Call us and let's start the conversation.