The perfect catalyst for your leadership team if they are:
A new team: wanting to accelerate clarity, collaboration and success.
Disrupted: with changing objectives, new directions, new members, a merger or acquisition, etc.
Growing rapidly: excited to leverage possibilities with efficiency but feel the pressure of delivering.
Working in Silos: challenged to meet stakeholder commitments, solve problems effectively or seize new opportunities together.
Tired and complacent: need to be reconnected to purpose and roles.


Master Saying 'No' Confidently
Build Credibility and Resilience Without Creating Conflict
IMAGINE, what would be possible if you said 'No' with confidence and further built your own credibility and that of your team?
This program re-energizes you and your team as you consciously and confidently practice saying 'Yes' or 'No', and manage your own capacity and credibility.

We'll take you on a journey to:
Strategize: Get clear on the difference saying 'No' would have for the team, in individual
roles, careers and life and why this is important.
Align: Connect your learning to your team's values, goals, capacity and credibility.
Communicate: Disrupt your sense of overwhelm, when you use the model to discern your 'Yes' or 'No' answer and guide your conversation, knowing you can maintain healthy relationships with all stakeholders even when you say 'No'.
Celebrate: Practice makes perfect! Celebrate increased confidence, focus and energy! We integrate practice and implementation to ensure lasting change.
Designing Accountability Planner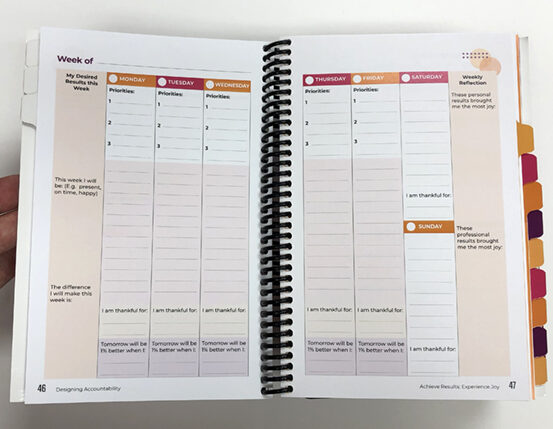 This Planner is uniquely designed to reduce your stress if you need:
Structure: if you sometimes feel you need more control of your time and results.
Focus: It is hard to set a clear direction and hold ourselves accountable to measurable results in an ever-changing landscape.
Accountability: if you need an accountability partner to help you identify your top three priorities.

It's more than just a planner, it is your accountability partner! Allows you to start on any date – in any month.
As a leader you might choose this program if you are:
Advancing: preparing to grow to the next level, wanting to grow your leadership skills.

In a New Role: mastering a new role or adapting t changing needs of your current role.
Mentorship: looking for diversity of perspectives that peers from different industries.
Have a thirst for learning with others.
As a leader at any level in an organization, you might invite One-on-One coaching if you are looking to:
Partner and be even more inspired in a thought-provoking process that maximizes your success and fulfillment.
Unlock your creativity, imagination, productivity, and leadership.
Have a Guide walk with you to help you find your own answers, knowing the answers lie within.
Have a thinking partner who will sit in a place of curiosity, ask the right questions, challenge your thinking and assumptions.
Specific Skill
Development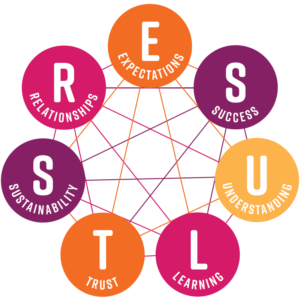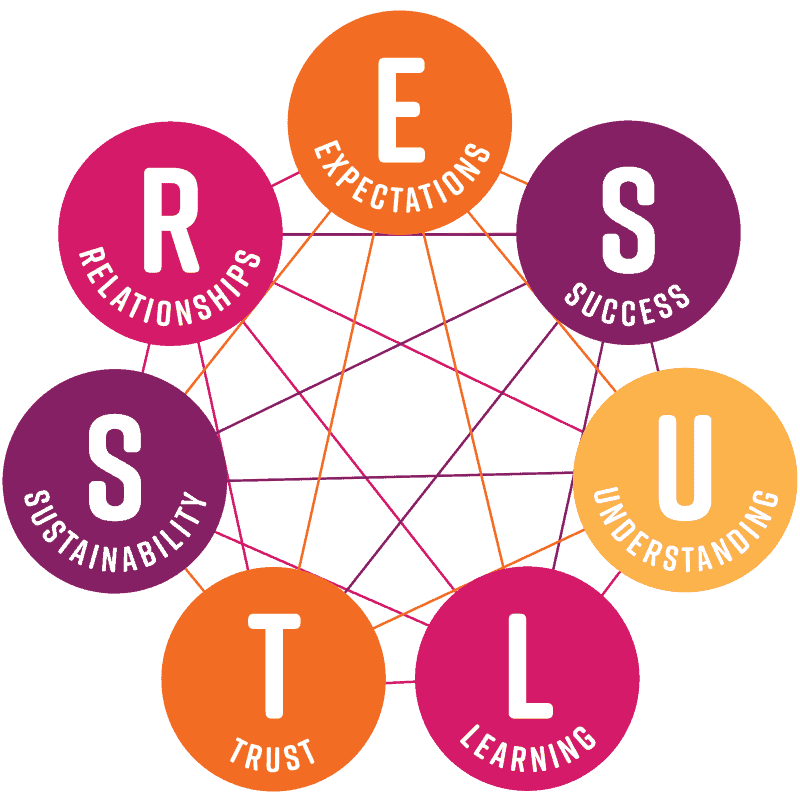 The perfect catalyst for your leadership team if they are:
Mini-programs for any of the seven elements of our RESULTS Model: Relationships, Expectations, Success, Understanding, Learning, Trust, Sustainability
Accountability to Self & Others, Defining Your Values
Onboarding with RESULTS
Embracing Your Role as a Leader: Core Leadership skills of Managing, Communicating, Motivating, Coaching, Mentoring, Connecting, (May qualify for Canada-Alberta Job Grant)
Other Leadership Skills upon request
If you have leaders on your team who would benefit from specific skill development, the following programs are customized on demand.