International Coach Federation
ICF is committed to maintaining and promoting excellence in coaching. Therefore, ICF expects all members and credentialed coaches (coaches, coach mentors, coaching supervisors, coach trainers or students), to adhere to the elements and principles of ethical conduct: to be competent and integrate ICF Core Competencies effectively in their work.
In line with the ICF core values and ICF definition of coaching, the Code of Ethics is designed to provide appropriate guidelines, accountability and enforceable standards of conduct for all ICF Members and ICF Credential-holders, who commit to abiding by the following ICF Code of Ethics:
Making Sense of Coaching Credentials
ICF Credential holders are part of a self-regulating group of elite coaches who provide accountability to clients and the coaching profession as a whole.  They pursue and complete rigorous education and practice requirements that provide unquestioned legitimacy to their commitment to excellence in coaching.
There are three different credentialing levels that have very specific criteria and exams at each level, plus ongoing professional development.
| | | | |
| --- | --- | --- | --- |
| ACC | Associate Certified Coach | 60+ Hours of Training | 100+ Coaching Hours |
| PCC | Professional Certified Coach | 125+ Hours of Training | 500+ Coaching Hours |
| MCC | Master Certified Coach | 200+ Hours of Training | 2500 Coaching Hours |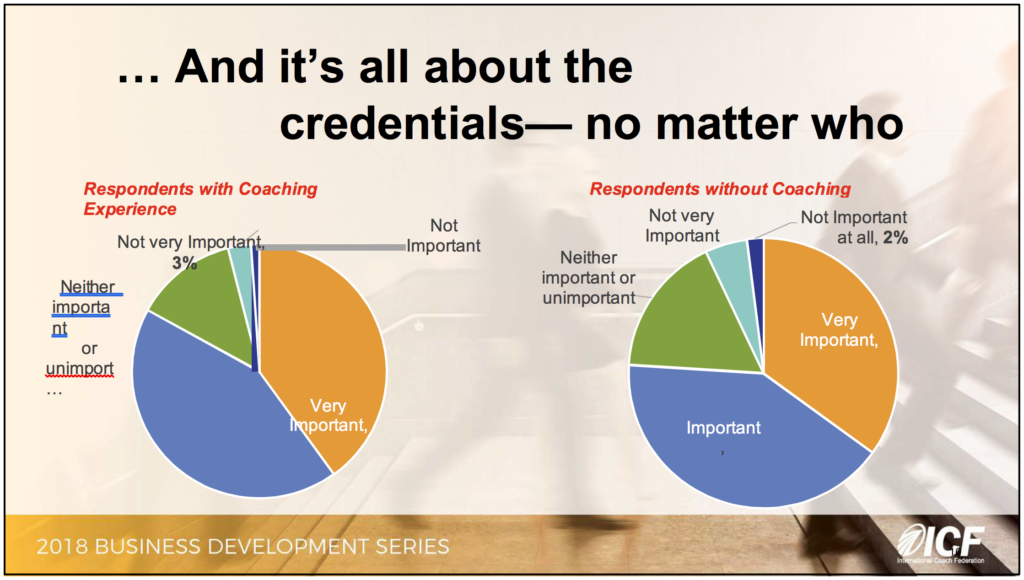 The following eleven core coaching competencies were developed to support greater understanding about the skills and approaches used today.
Setting the Foundation 1. Meeting Ethical Guidelines and Professional Standards 2. Establishing the Coaching Agreement
Co-creating the Relationship 3. Establishing Trust and Intimacy with the Client 4. Coaching Presence
Communicating Effectively 5. Active Listening 6. Powerful Questioning 7. Direct Communication
Facilitating Learning and Results 8. Creating Awareness 9. Designing Actions 10. Planning and Goal Setting 11. Managing Progress and Accountability
ICF Global Consumer Awareness Study: Executive Summary
The executive summary for the 2017 ICF Global Consumer Awareness Study is available free of charge to ICF Members. Non-members can purchase the executive summary online for $15 USD.
"Linda has been available to provide me with thoughtful and insightful coaching. She has helped me to clarify issues and form possible responses to challenges and encouraged me to find the right fit solution. This help has assisted me to get through some stressful situations and find a positive path forward. Linda's positive attitude and ability to help you get to the heart of a problem has made her a strong coach whose opinion I value."
"I respect your opinion and the knowledge you relate. I feel you are genuine and because of this I have great respect for your thoughts. I say this not to make you feel good (although you should), but to confirm what I say legitimate. Without the trust and respect I have for you, all of this is just smoke and mirrors. Our discussion about how I react to situations, has been fruitful. You have been able to find a way to look at situations from a different angle. You have been able to confirm and bring realism to the Myers Briggs training by bringing it to my everyday world. You have helped me with prioritizing by looking at big chunks and using the pre-emptive strike."
"A year ago, I would have tried to run from the whole thing, but I have definitely changed from the coaching we did together. I'm pretty excited about (the new guy) coming into this spot. I'm slowly building a high performance team.. Linda, I finally do have a voice. I'm really enjoying Dale Carnegie. It definitely takes me out of my comfort zone, but I'm starting to feel more and more confident. Hope to see you soon."
Add Your Heading Text Here