Accountability by Design – NEW PROGRAM Starting April 26, 2017
If your team is stalled or complacent, group coaching is our recommended catalyst for growth. Our Accountability by Design Program is a six month commitment of both group and individual coaching designed to support your team to co-create and implement strategies that drive success.
Through facilitated conversation, your team will identify the 'limiting factors' impeding their success.
In small group discussion, using focused research and a shared commitment to results, the team will identify potential solutions and implementation strategies.
After implementation the group will continue the discussion to ensure results were achieved, consider other potential solutions and/or identify the next challenge.
Repeat the process monthly over a six month period.
Track your team measurable results using CoachAccountable (TM) software and celebrate your success.
Program Schedule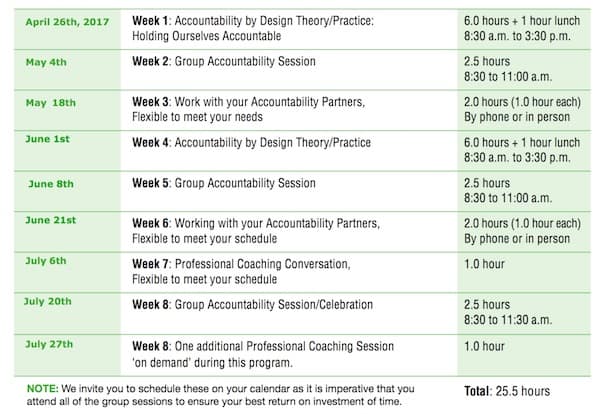 This program demands a team commitment of 2.5 hours per month for group discussion and 1 hour a month for individual one-on-one coaching for all participants. This open, transparent conversation will lead to increased productivity and sense of team.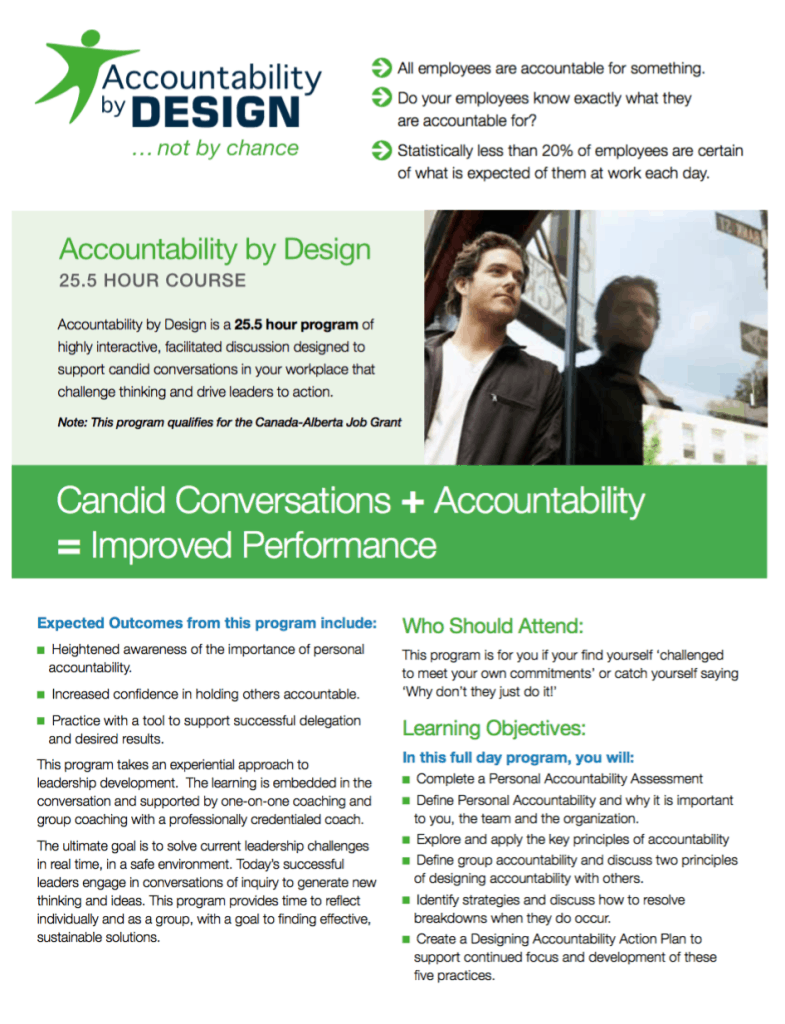 For more information, download the PDF flyer or visit Creating People Power's Accountability by Design page.
IMPORTANT: This program qualifies for the Canada-Alberta Job Grant that reimburses up to 2/3 of the cost of this program. 
Mentor-Coach Approach
A Mentor-Coach Approach to Leadership is a highly experiential, collaborative approach to learning that fosters exploration and sharing of leadership best practices. It is focused specifically on two leadership competencies: Mentoring and Coaching.
During a combination of workshops, assessments, one-on-one coaching and group coaching, you will:
Understand the difference between mentoring and coaching.
Practice a mentor-coach approach; know when to mentor and when to coach.
Learn the benefits of suspending assumptions.
Hold others accountable to their goals and achieve your own goals in your learning partnership.
Foster sustainable relationships.
IMPORTANT NOTE: This program qualifies for the Canada-Alberta Job Grant that reimburses up to 2/3 of the cost of this program.